THE HOTEL
Enjoy a stay on the famous Alsace
Wine Route in Wettolsheim.
Established in 1960, HÔTEL SPA AU SOLEIL welcomes you to the heart of the Alsace vineyards between Mulhouse and Strasbourg.
Just 5 km from the charming town of Colmar with its historic centre, 12 km from Kayserberg and Ammerschwihr golf resort, 14 km from Trois-Epis and 16 km from the Munster Valley, our hotel is an ideal stopover on your Wine Route discovery.
Come and enjoy our completely renovated and fully equipped rooms for a truly restful, relaxing stay.
The area also offers plenty of choice for days out, including walks, hikes, wine tastings, wine festivals and Christmas markets.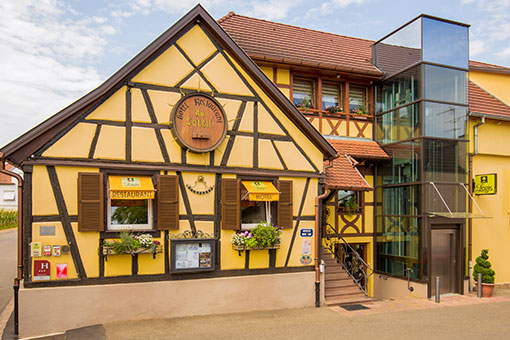 A legacy
HÔTEL SPA AU SOLEIL is the story of a legacy passed down from generation to generation. For more than 60 years, we've made our hotel the epitome of Alsace catering and hospitality. It is this legacy that we want to share with you.
A stay among the vineyards
We are proud to be from Alsace and our greatest passion is introducing our guests to the culinary and geographical delights of our region.
HÔTEL SPA AU SOLEIL offers you a unique stay in the heart of the Alsace vineyards, a chance to enjoy complete serenity in a peaceful and inspiring setting.
Meet passionate winemakers, admire exceptional landscapes and immerse yourself in the picturesque charm of the surrounding villages on a time-honoured itinerary.
Address
20 route Sainte-Gertrude
F-68920 WETTOLSHEIM
Times
Monday : 07:00 - 22:30
Tuesday : 07:00 - 22:30
Wednesday : closed
Thursday : 07:00 - 22:30
Friday : 07:00 - 22:30
Saturday : 07:00 - 22:30
Sunday : 07:00 - 22:30