Are your taste buds missing our food?
Alsace is home to an abundance of small producers who work tirelessly to supply us with delicious fresh produce.
HÔTEL SPA AU SOLEIL prioritises quality by creating partnerships with local producers to serve seasonal, tasty and healthy dishes all year round. We support our local suppliers and celebrate the gastronomic and culinary heritage of our region. This creates a virtuous circle for everyone, from the producer to the consumer whilst respecting the environment and natural cycle of the seasons.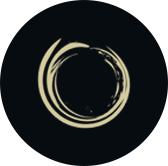 Chef Guillaume Schilling blends tradition with modernity in his menus, celebrating the subtleties of the rural flavours of Alsace cuisine he loves so much. His kitchen presents the Alsace countryside on a plate!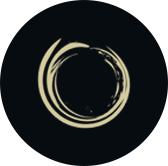 For easy access to our restaurant, customers can use a large private car park which is accessible for people with reduced mobility.
GOURMET TRADITIONS
Alsace is a region of gourmet traditions
Our dining experience is infused with Alsace tradition. For three generations, we have focused on preserving the soul of our regional cuisine through our wines and our meticulously prepared dishes.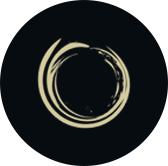 You can now enjoy your favourite meals to take away!
'Au Soleil' Crémant
€4.80
'Grand Cru' Gewürztraminer
€9.50
'VT' Gewürztraminer
€7.80
Farm-pressed apple juice
€3.40
Home-smoked salmon
1/2 serving €9.50 - €16
Duck breast salad
1/2 serving €9.50 - €16
Salade vigneronne (winemaker's salad)
1/2 serving €6.00 - €10
Warm goat's cheese salad
1/2 serving €7.00 - €11
Presskopf terrine
1/2 serving €7.00 - €13
Snails (by the dozen)
1/2 dozen €7.00 - €13
Veal escalope in a creamy sauce
€20
Breaded veal Cordon Bleu
€20
Veal Cordon Bleu in a creamy sauce
€21
Bouchée à la reine (vol-au-vent filled with chopped meat in a rich sauce)
€17
Roast beef Alsace-style
€18
Chef's signature burger
€24
Guidat trout with autumnal vegetables
€24
Starter-fish-meat-dessert
€43
'Terroir' menu (menu based around local produce)
Gugelhupf cake, ice cream
€24
Knackwurst and fries
9.50€
or Spätzle pasta,
or Bouchée à la Reine,
fries or Spätzle pasta
Dessert
Munster cheese portion
€6
Alsace cheese platter
€9.50
Alcohol-infused sorbet
€7.50
Ice cream or sorbet
€2 per scoop
Lemon tart revisited
€8.50
Take a little bit of Alsace home with you
with our range of homemade and local produce
Pinot Blanc
€7.80 per bottle
Riesling
€8.30 per bottle
Pinot Noir
€8.50 per bottle
Pinot Gris
€8.50 per bottle
Gewürztraminer
€8.90 per bottle
Sous-vide sauerkraut
€10.00 / serving
Chef's semi-preserved foie gras
€12.00 / 100 g
PLACE YOUR ORDER AT THE START OF YOUR MEAL

An ideal setting for your conferences and meetings
A room with plenty of natural sunlight and access to an inner courtyard, air-conditioning and capacity for 20/25 people.
The room boasts modern equipment: Wi-Fi, flipchart, screen and video projector (HDMI) with blackout options available for slide presentations.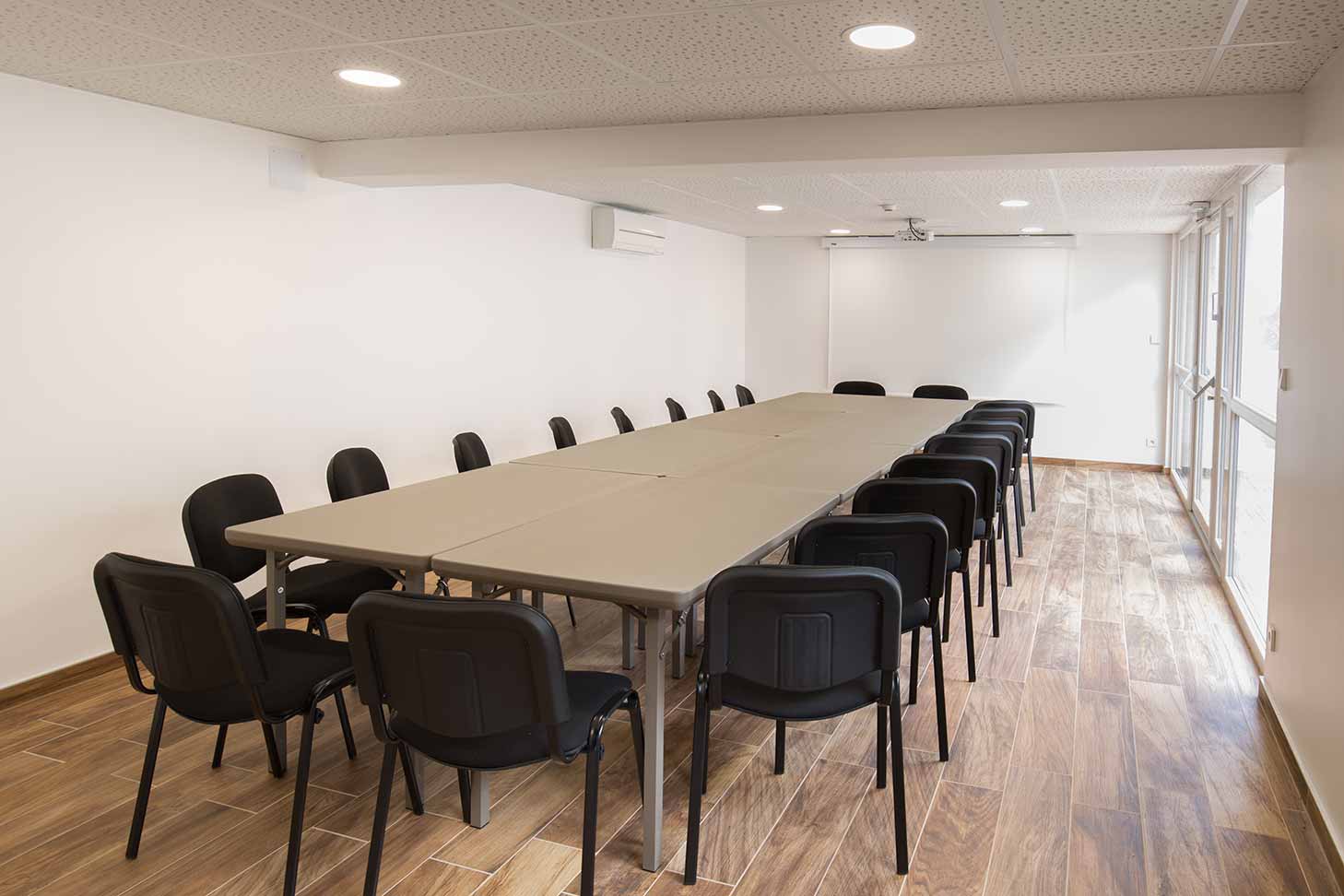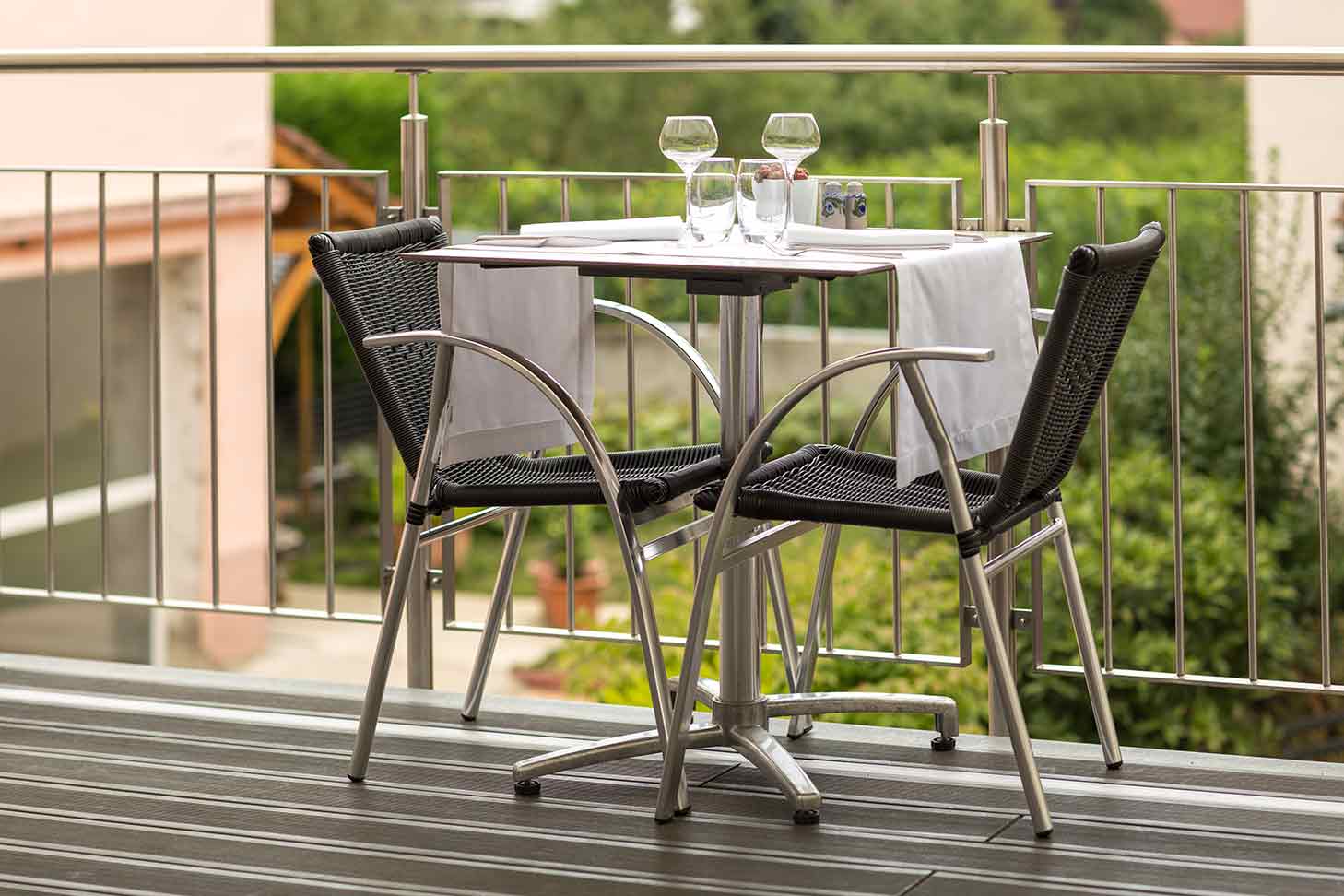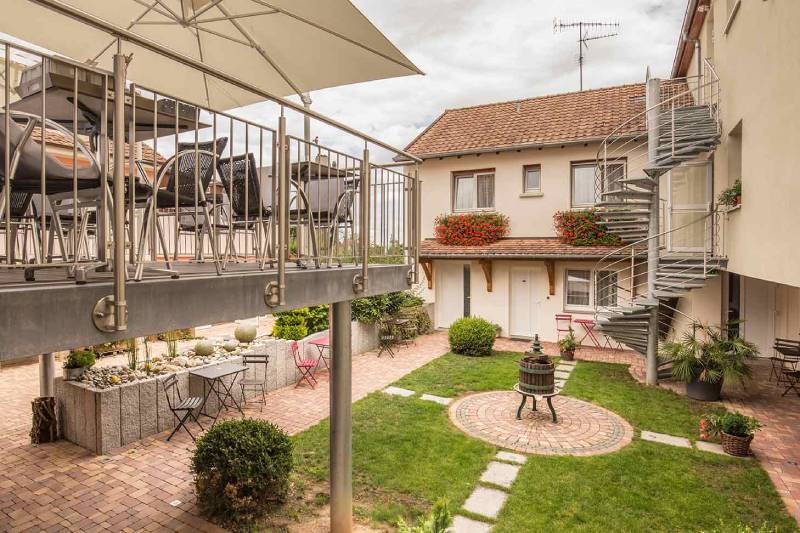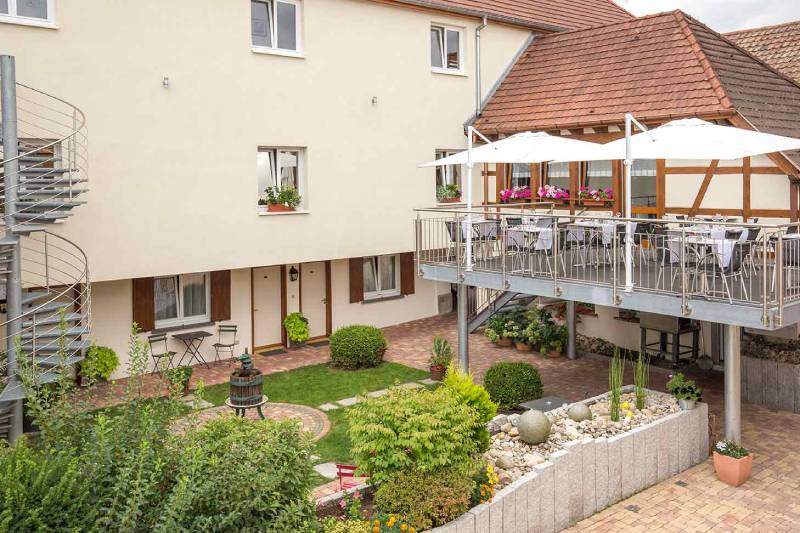 The restaurant is closed on Wednesdays.

We have a private car park for our customers.
Phone to book your table on
+33 (0)3 89 80 62 66

Explore the facilities and setting for your
HÔTEL SPA AU SOLEIL in Wettolsheim.
Address
20 route Sainte-Gertrude
F-68920 WETTOLSHEIM
Times
Monday : 07:00 - 22:30
Tuesday : 07:00 - 22:30
Wednesday : closed
Thursday : 07:00 - 22:30
Friday : 07:00 - 22:30
Saturday : 07:00 - 22:30
Sunday : 07:00 - 22:30